Study Guides for the MCTS 70-642 Exam!
Fully updated for Windows Server 2008 R2! Ace your preparation for the skills measured by Exam 70-642 - and on the job. Work at your own pace through a series of lessons and reviews that fully cover each exam objective. Then, reinforce and apply your knowledge to real-world case scenarios and practice exercises.
Maximize your performance on the exam by learning to:
Configure IPv4 and IPv6 addressing
Deploy and configure DHCP servers, DNS servers, and DNS zones
Implement Ipsec, Windows Firewall, and Network Access Protection (NAP)
Plan and manage Windows Server Update Services
Manage file and print services in Windows Server 2008 R2
Enable remote and wireless access, including DirectAccess
Monitor and troubleshoot network performance
Microsoft Press - 2011
---
Covers the critical information you need to know to score higher on your 70-642 Exam!
Configure IPv4 and IPv6 addressing and services
Work efficiently with Dynamic Host Configuration Protocol (DHCP)
Manage advanced server features such as Server Core and Hyper-V
Configure routing, including RIP and OSPF-based routing
Secure networks with firewalls, policies, IPSec, authentication, Network Access Protection, and the Baseline Security Analyzer
Configure DNS servers, zones, records, replication, and client computer name resolution
Manage remote access, from NAT and VPNs to RRAS and RADIUS services
Implement secure wireless access using SSID, WEP, WPA, WPA2, and group policies
Configure file and print services, including disk quotas, DFS, and EFS
Establish efficient automated backups and manage restores
Monitor network performance and events
Streamline updates with Windows Server Update Services (WSUS)
Pearson - 2008
---
MCTS Guide to Microsoft Windows Server 2008 Network Infrastructure Configuration (Exam 70-642) prepares the reader to configure networks using the Microsoft Windows Server 2008 operating system and to pass the MCTS 70-642 certification exam. Focusing on updates to the software and in-depth coverage of the network aspects of Windows Server 2008, this book includes topics such as networking in a Windows environment; configuring DHCP; implementing DNS; and securing a Windows Server 2008 network. This full-color book also features a series of activities and readings designed to engage readers and offer real-world operating system experiences to users at any level.
Course Technology - 2009
---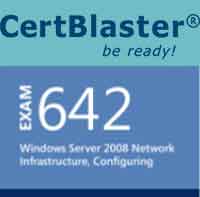 The CertBlaster® 70-642 practice test helps you prepare for Microsoft's Windows Server 2008 Network Infrastructure, Configuring exam. With over 150 practice questions similar to the ones on the actual exam, this is an exceptionally comprehensive and complete practice test offering.
Certblaster - 2017