Study Guides for the MCTS 70-640 Exam!
Fully updated for Windows Server 2008 R2! Ace your preparation for the skills measured by Exam 70-640 - and on the job. Work at your own pace through a series of lessons and reviews that fully cover each exam objective. Then, reinforce and apply your knowledge to real-world case scenarios and practice exercises.
Maximize your performance on the exam by learning to:


Deploy or upgrade domain controllers, domains, and forests for Windows Server 2008 R2
Manage user accounts and groups with Windows PowerShell
Implement Group Policy; configure software and security settings
Configure DNS settings and zones
Manage authentication
Plan and manage Active Directory replication
Monitor and ensure availability of directory services
Microsoft Press - 2011
---
MCTS Guide to MicrosoftWindows Server 2008 Active Directory Configuration prepares students to develop the skills needed to manage a Windows Server 2008 system and to prepare to pass the MCTS 70-640 certification exam. While the focus of topics is on the configuration of Active Directory and related services, coverage of Windows foundational topics such as the file system and networking are also included. Extensive coverage begins with an introduction to Windows Server 2008 and goes on to active directory design, account management, group policy management and configuration, certificate services, AD LDS, AD RMS, AD FS, server core, Windows Hyper-V virtualization, and server management.
Course Technology - 2009
---
The Microsoft Certified Technology Specialist (MCTS) on Windows Server 2008 credential is intended for information technology (IT) professionals who work in the complex computing environment of medium to large companies. The MCTS candidate should have at least one year of experience implementing and administering a network operating system in an environment that has the following characteristics: 250 to 5,000 or more users; three or more physical locations; and three or more domain controllers.
MCTS candidates will manage network services and resources such as messaging, a database, file and print, a proxy server, a firewall, the Internet, an intranet, remote access, and client computer management.
In addition MCTS candidates must understand connectivity requirements such as connecting branch offices and individual users in remote locations to the corporate network and connecting corporate networks to the Internet.
Designed to help newcomers to Microsoft certification study for and pass MCTS exam for Active Directory on their way to MCITP certification
THE independent source of exam day tips, techniques, and warnings not available from Microsoft
Comprehensive study guide guarantees 100% coverage of all Microsoft's exam objectives
Interactive FastTrack e-learning modules help simplify difficult exam topics
Two full-function ExamDay practice exams guarantee double coverage of all exam objectives
1000 page "DRILL DOWN" reference for comprehensive topic review
Syngress - 2008
---
Covers the critical information you'll need to know to score higher on Exam 70-640!
Utilize new features of Windows Server 2008 related to Active Directory
Install and configure Active Directory forests and domains
Plan and implement an Organizational Unit structure
Plan and manage Active Directory infrastructure components, such as operations masters, global catalogs, read-only domain controllers, and sites
Plan, implement, and manage Active Directory using Group Policy
Plan and manage Active Directory roles, including Active Directory Lightweight Directory Services, Active Directory Rights Management Services, and Active Directory Federation Services
Deploy software in Active Directory using Group Policy
Utilize Active Directory features to manage users and groups
Back up and restore Active Directory, and rebuild an Active Directory domain controller from backup
Deploy and manage a public key infrastructure using Active Directory Certificate Services
Pearson - 2008
---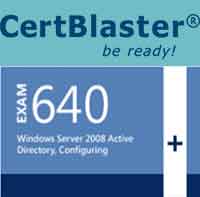 The CertBlaster® 70-640 practice test helps you prepare for Microsoft's Windows Server 2008 Active Directory, Configuring exam. With 150 practice questions similar to the ones on the actual exam, this is an exceptionally comprehensive and complete practice test offering.
Certblaster - 2017