Study Guides for the MCSA 70-412 Exam!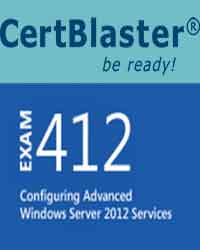 Configuring Advanced Windows Server 2012 Services
Includes a total of 158 Questions including performance based questions, Explanations, Personal Testing Plan (lets you know what you need to work on based on the CertBlaster assessment), customized exams, 5 drills (each drill is one exam main domain) and 3 full exam simulations. Each CertBlaster comes with all navigation elements available on the actual exam plus grading per exam objective in addition to overall scores.
Certblaster - 2017
---
Fully updated for Windows Server 2012 R2! Prepare for Microsoft Exam 70-412—and help demonstrate your real-world mastery of advanced configuration tasks for Windows Server infrastructure. Designed for experienced IT professionals ready to advance their status, Exam Ref focuses on the critical-thinking and decision-making acumen needed for success at the MCSA or MCSE level.
Focus on the expertise measured by these objectives:
Configure and manage high availability
Configure file and storage solutions
Implement business continuity and disaster recovery
Configure network services
Configure the Active Directory infrastructure
Configure access and information protection solutions
This Microsoft Exam Ref:
Organizes its coverage by objectives for Exam 70-412.
Features strategic, what-if scenarios to challenge candidates.
Designed for IT professionals who have real-world experience configuring Windows Server 2012 R2 services in an enterprise environment.
Microsoft Press - 2014
---
Offering a wealth of hands-on activities, MCSA Guide to Configuring Advanced Microsoft Windows Server 2012 /R2 Services, Exam 70-412 empowers you to successfully pass the MCSE/MCSA certification exam while preparing you to face the real-world challenges of a Microsoft networking professional. This engaging text equips you with the skills necessary to configure advanced services and features in Windows Server 2012/R2. Comprehensive coverage includes advanced Active Directory configuration, advanced network services configuration, Dynamic Access Control (DAC) and IP Address Management (IPAM), server high availability and disaster recovery, and identity and access solutions, among other topics In addition, hands-on labs and skill-reinforcing case projects give you plenty of opportunity to put what you learn into real-world practice.
Course Technology - 2015
---
MCSA Windows Server 2012 R2 Configuring Advanced Services Study Guide provides focused preparation for exam 70-412 and is fully updated to align with the latest Windows Server 2012 R2 objectives. This comprehensive guide covers 100 percent of all exam objective domains, and includes hundreds of practice questions and answers. You get access to video demonstrations, electronic flashcards, and practice exams, and hands-on exercises based on real-world scenarios allow you to apply your skills to everyday tasks. Organized by objective, each chapter includes review questions and a list of Exam Essentials that help you judge your level of preparedness every step of the way.
Exam 70-412: Configuring Advanced Windows Server 2012 Services is the third and final exam in the MCSA certification series, and was recently updated to cover Server R2. Additions include enhancements to Hyper-V, Storage Spaces, and Active Directory, so it's crucial that your study guide be up to date as well. This book covers the entire exam, including the new information, with expert instruction and easy-to-follow explanation that helps you to:
Configure network services, high availability, information protection, and more
Implement business continuity and disaster recovery solutions
Get hands-on practice in real-world scenarios
Sybex - 2015
---
According to MS, a server administrator is responsible for the operations and management of an infrastructure of Windows Server 2012 servers in an enterprise environment. Exam 410 covers: - Installing and Configuring Windows Server 2012 - Introduction to Active Directory Domain Services - Managing Active Directory Domain Services Objects - Automating Active Directory Domain Services Administration - Implementing Networking Services - Implementing Local Storage - Implementing File and Print Services - Implementing Group Policy - Implementing Server Virtualization with Hyper-V Exam 70-411 covers: - Implementing a Group Policy Infrastructure - Managing User and Service Accounts - Maintaining Active Directory Domain Services - Configure and Troubleshoot DNS - Configure and Troubleshoot Remote Access - Installing, Configuring, and Troubleshooting the Network Policy Server role - Optimizing File Services - Increasing File System Security - Implementing Update Management Exam 412 has coverage on: - Implementing Advanced Network Services - Implementing Advanced File Services - Implementing Dynamic Access Control - Implementing Network Load Balancing - Implementing Failover Clustering - Implementing Disaster Recovery - Implementing AD CS - Implementing AD FS To succeed in the exams, you need to read as many reference books as possible. This book is NOT intended to guide you through every single official topic. You should therefore use this book together with other reference books for the best possible preparation outcome.
CreateSpace Independent Publishing Platform - 2013